12/4/15
Another breakfast at Arthotel Munich! Just as good as the day before! I was not joking when I said that the breakfast there is something worth trying. Imagine tables of veggies, meats, fruits, cakes, juices, and the list goes on and on! After breakfast we had to load our bags onto the bus since we were checking out that morning. Luckily though, we got to have free time in Munich from the morning to early afternoon.
McCall and I were planning on going around with Madeline, Lacey, and megan, but we were ready about 45 minutes before we were planning on meeting up and we had gotten kicked out of our hotel room, so we got on facebook and sent madeline a message not to wait up for us and set off. We found our way to the shopping center area of Munich (by the glockenspiel) and since McCall wanted to find Birkenstocks we stopped into a shoe store. As we were leaving it, we saw Kiley sitting outside on a bench. So we sat down with her and apparently she was with Catherine, Lauren, JJ, Tashia, Zach, and Madison. So we sat down with her and waited for the others. When they came out of their store, we all went together into this other shoe store to find Birks for McCall. They had this slide down into the kids section and we all took a turn to go down it! After that we stopped in a few other stores, and actually ran into Madeline, Lacey, and Megan who apparently didn't get my message and after they left we realized that it might have looked like we just ditched them to go with our other friends when in reality it was a total coincidence that we ran into them!
There was this one sports store that we went into that sold Fjallraven clothes, so I finally got to buy a t-shirt! I'd wanted one ever since the previous year when my family met up with Ross in Copenhagen and he showed us the store. Plus I kept seeing the backpacks all over campus and I thought the logo was super cool!

For lunch the rest of the crew wanted to go to McDonald's for the cheap food and free wifi, so off we went! McCall and I had brought some of the apples we bought a few days ago for lunch, so we just ate that, but we really wanted to try this german treat called "Spaghetti Eis" or Spaghetti ice cream. So Zoe, who we ran into earlier and came with us to Mickey D's, knew where we could find some! We had spent a long time trying to find a place but luckily Zoe was our girl! We told the rest of the group that we'd see them when we met back up to leave Munich so we could grab some. Basically ice cream shops have these special machines that push ice cream out of these holes that make vanilla ice cream look like noodles. First they put whipped cream on the bottom of the bowl, then is the "noodles", then they put this strawberry sauce (which was way better than stuff you can find in the US since it wasn't super sweet and actually tasted like strawberries) to make it look like tomato sauce, and then they sprinkle nut bits on top to look like parmesan cheese! McCall and I split one and it was totally worth it! SOOOO amazing!! We need this in America!
After we ate that it was time to meet the group back together to get on the bus so we could drive to Salzburg. We were told to meet in the Glockenspiel square, except that this weekend was Munich birthday so the courtyard was PACKED, plus it's already huge which didn't make it any easier. There were little booths selling things, a stage with a concert going on, restaurant seating spilling out into the square, plus a ton of people! Clearly Dr. D didn't think it through all the way when he told us to meet "just in the square". McCall, Zoe, and I were walking around hoping to run into another group of us. We were passing a restaurant when we saw something that will never leave my memory. A man was laying on the ground with his friends beside him pushing him on his side. His face was purple and he was foaming at his mouth. His eyes looked dead. It was so sickening to see that I honestly thought I was going to throw up. His friends were calling for doctors and everyone was rushing around trying to help him. One woman turned to McCall and I, and seeing our shocked faces told us "Make sure to drink your water today" as she walked away from the scene. Apparently this sort of thing isn't super rare on celebration days where people drink a lot of alcohol, not enough water, and it's incredibly hot out. While we didn't want to gawp at this man who so clearly was having a medical emergency, we didn't want to walk away until we knew he wasn't going to die. A minute later paramedics got to him and shortly later got him to sit up. His face was returning to a normal color. It was then that we felt like he would be okay and we could leave. Seeing that definitely affected our moods because we grew somber for a while after that, neither one of us could forget that initial scene.
McCall and I decided that we would wait directly under the glockenspiel to wait for other people to find us, we were told to meet at the glockenspiel and how much closer could you get than directly underneath it! After a few minutes we had found a couple people and were gathering even more. After about half an hour after we were supposed to meet we finally had everyone together. Dr. D led us through the streets to where we were meeting up with Martin and the bus. Then was the two hour drive to Salzburg.
We finally pulled into our hotel, JUFA Salzburg, much later than Dr. D anticipated. Luckily he had given us free time until we were to meet up for the marionette show. The hotel was aimed towards school groups or teens/young adults traveling alone. This meant that they had strict rules for what we could and couldn't do, with pretty severe monetary punishments if we didn't follow it! It felt like I was at a camp or something instead of staying in a hotel... Since we got to the hotel later than planned we only had a short amount of free time, so we (McCall, Madeline, Hugh, and I) used it to walk around Salzburg before meeting in Domplatz, a plaza in front of the Salzburg Cathedral for the show.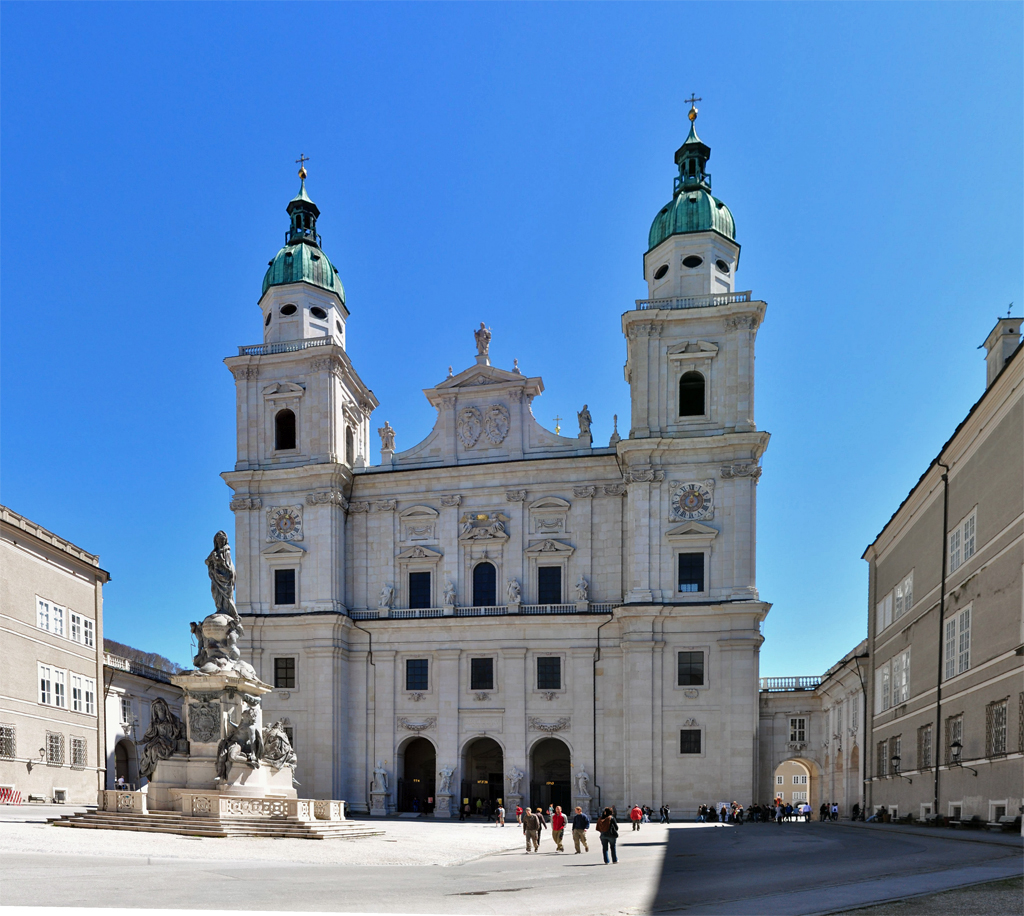 The Salzburg Marionette Theatre was actually really cool on the inside! It felt like a regular theater but miniature! We weren't allowed to take any pictures so the only one I got was of the curtain drawn across the stage and the cool light fixture/ceiling.
The opera that they performed was the Magic Flute, which I saw my senior year for German class at as a real opera in Chicago. It was nice that I had that background because they didn't provide us with any english subtitles, just a summary of what happened in each scene so I was able to understand everything that was going on. The performance itself was really well done. The puppets were very fancy and since it was a shortened version of the opera it wasn't too long. I'd recommend going to it if you don't have a night planned while in Salzburg, or even plan it in from the start!
After the show a group of us went to a kebap place, as was tradition, but I didn't buy anything since I wasn't super hungry. The ones who finished eating (or never started in my case) split off from the rest of the group and just headed back to the hotel to settle in for the night. We did get a little bit lost on the way back to the hotel, however with the brains of McCall, Madeline, Hugh, and I we made it back without too much damage.